A Tribute to Pete
199?-2010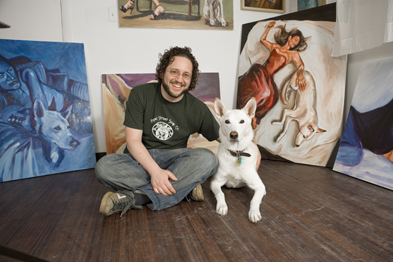 For those of you at all familiar with the work on this website you surely know Pete, our white shepherd-mix. Finding him as a stray in Brooklyn, NY was the most significant thing we did in our life together and there was no way on that early summer day that we could have possibly predicted the impact he would have on us.
On Sunday, November 28, 2010, after over 10 years of enriching our lives, of spoiling us with his endless love, and of making us laugh, smile, and cry, Pete passed away. He gave us more than he ever could have imagined. He was a muse and a best friend, a confidante and a rock in the storm. He will be profoundly missed for the rest of our lives.
Thank you Pete.
Please read what Tracey wrote about Pete.
On Friday, December 3, WWOZ Morning Set DJ Raymond Kent played a New Orleans jazz funeral/second line set for us in honor of Pete. In case you don't know, a New Orleans jazz funeral features a brass band that accompanies the family to the cemetery,
playing slow, sad spirituals. The second line comes after the service when the band plays more upbeat songs as the family leaves the cemetery, picking up members of the community and passersby (a "second line") as they walk and dance to celebrate the life of the deceased. Anyway, the songs Raymond played are "His Eye is on the Sparrow" and "Just a Closer Walk With Thee" and the second line tune is "Didn't He Ramble," all traditional choices (and all great selections for Pete.) Thanks Raymond.
Audio clip: Adobe Flash Player (version 9 or above) is required to play this audio clip. Download the latest version here. You also need to have JavaScript enabled in your browser.
Please play the above audio as you click through the images below.